Creativity in Greater Manchester hit the high notes this weekend at Beyond The Music - the first city-wide music conference and festival since the industry's renowned annual In The City event in 2010.
Aiming to become an annual fixture in the music industry calendar around the world, Beyond The Music proved why 23 years later, Greater Manchester continues to be a first-choice investment destination for leading international brands in creative, digital and tech – all contributing to the region's £74.8 billion economy by supporting thousands of jobs and attracting a significant number of music tourists and professionals to the city.
Themed around past, present, and future, Beyond The Music focused on three key initiatives for music in Greater Manchester; to see young artists receive extra funding including workshops in schools to encourage careers in music; support for grassroots venues across the city; and encouraging more diverse audiences to listen to live music.
"This is the start, truly, of a new era of Greater Manchester music where we hand over the baton to the next generation. We can't trade on our past; it's about the now… we're going from I Am the Resurrection to who is the resurrection" – Andy Burnham, Mayor for Greater Manchester
Over 3 days, with more than 200 artist performances in 10 venues across the city centre from Manchester Central to the widely independent Northern Quarter, Beyond The Music's packed itinerary highlighted how despite its rich musical heritage, Greater Manchester's musical eco-system is future-focused and continues to thrive.
Passing the baton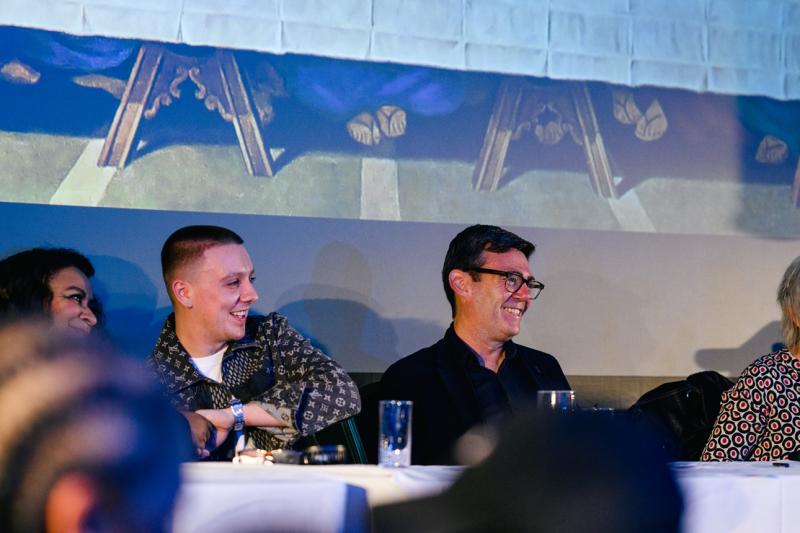 Hosted by broadcaster Mark Radcliffe, a 'Last Supper' themed panel discussion officially launched the event. Reuniting legends of the 80s and 90s Manchester music scene, artists Rowetta, Martin Moscrop, A Guy Called Gerald, Sylvia Tella, Kermit Leveridge, manager Karen Boardman, and DJs Clint Boon, Graham Massey and Mike Pickering officially passed the baton to the next generation of emerging musicians and the teams supporting them.
Representing the new wave, was the surprise appearance of North Manchester rapper Aitch (introduced by Radcliffe as "the new messiah" in keeping with the panel's theme). Taking his place on the panel, he was interviewed by Mayor, Andy Burnham about the current state of music and challenges aspiring artists face. Also speaking alongside the Mayor to welcome the audience, was conference co-founder, Oli Wilson, son of infamous Broadcaster and Factor Records founder, Tony Wilson.
"We've got new artists from all over Manchester, the UK, and the World, playing all types of music. So, get down, and find your new favourite artist." - Oli Wilson, Co-Founder, Beyond The Music
Just as Tony Wilson's In The City found its home at The Midland hotel, Beyond The Music's opening event captured the buzz of the earlier conference's heyday. "In The City encouraged me to be on the business side" recalled Boardman, artist manager of Manchester punk outfit Loose Articles, who performed at Beyond The Music's official launch during Austin, Texas' internationally recognised SXSW back in March.
On stage and off stage
Creative city regions are bursting with talent, so leading by example, the Beyond The Music team busied themselves arranging wristbands and guiding guests whilst technical crew members conducted final soundchecks.
Where live music accounts for 38% of music businesses in the city region (through concert producers, booking agents and promoters, venues, festivals, technicians, media), the conference quickly became the embodiment of all it was recognising as it demonstrated an industry built on the strength of its infrastructure off stage and backstage as clearly as the passionate discussions and performances on it.
Access all areas
Whilst on its surface the event spread its wings across the city akin to a much younger sibling of SXSW, the reality was distinctly Manchester.
An intimate celebration, it successfully provided accessibility to anyone, regardless of whether they were seeking or offering support. For artists aiming to upskill themselves, no speaker was off-limits, and minimal clashes made the activities easy to navigate for locals and visitors alike, granting attendees the all-too-rare benefit of time. Manchester is well known for its laid-back approach whist getting things done and Beyond The Music was no exception.
Meanwhile the 'Discovered' series further demonstrated the event's aim to combat inequality and create opportunity. Artists from across the globe who had submitted their music for the chance to perform at the festival formed a free for all line-up of shows whilst general ticket options for the weekend included free 'Pay It Forward' passes sponsored by industry partners.
Panels with passion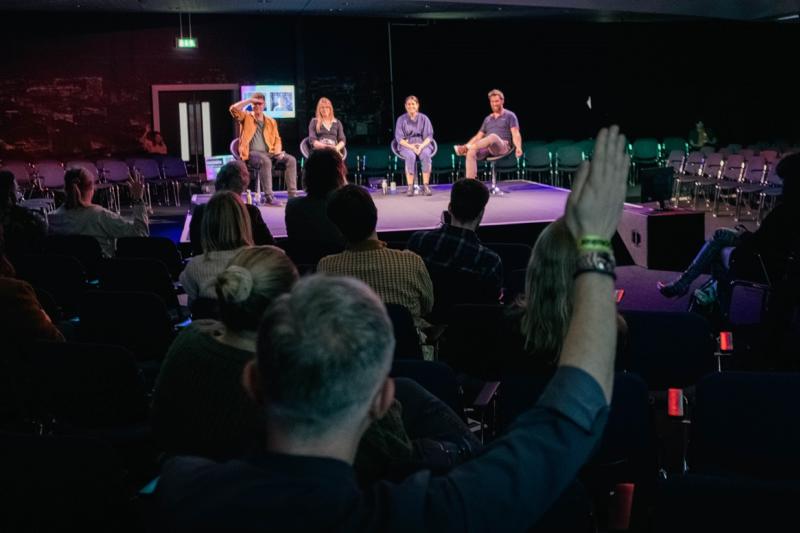 Is it possible to be both artist and manager? Where does the duty of care lie for artists' mental health? And how is it possible to really make it in the music industry? These were just some of the passionate panel discussions which took place over the course of the conference.
Attracting big names with Key Notes from Stevie Wonder manager Keith Harris OBE to international artist Rita Ora sharing their words of wisdom, the schedule of panellists from across the industry and a multitude of genres offered a broad representation. The result? Quality conversations and thoughtful insights rather than ego boosts, exploring critical issues such as the shifting traditions and patterns of creativity in the North, alongside practical advice and offers of help.
'Green Summit: Net Zero by 2050? Moving Forward Music's Sustainability Revolution' was opened by a moving Climate rally call from musician, creative and activist Louis VI. Speaking how his own love of nature spurs him to protect the environment, he invited the audience to join him in actively caring for the source of inspiration which is so valuable to so many artists. Further topics of discussion included the re-energised Music Climate Pact, alongside broader conversations on music's carbon footprint with Claire O'Neill (A Greener Future), Anna Johnson (Anjuna Beats), Joel Gardner (EarthPercent) and Silvia Montello (Association of Independent Music).
"It's time to stand up and be different and lead by example," - Louis VI, musician, creative and activist.
Meanwhile the decentralisation of what has traditionally been, the music industry's gravitational pull of the South was explored through 'Capital Punishment: Does the Future of the Music Business Lie Outside London?' The conclusion from a well-balanced panel (consisting of those who had moved away, passed through the capital, resided internationally, and lifetime local residents) became less a question of location and rather, as our post-pandemic reflections have taught us, the music industry consists of creatives, all of whom are 'internationalists' operating in a way which is mobile and accessible. Greater Manchester in particular, reflecting its industrial heritage, has the momentum of the modern world right now.
Collaboration is key
Tapping into a greater awareness, Beyond The Music also demonstrated how the northern scene's greatness is the product of multiple parts. Where the Mancunian way is for creatives to support and build each other up than tear others down, it celebrated the success of collaborators united in a shared belief of utilising competition as a source of motivation.
Making their debut event outside London, Independent Venue Week's special launch party hosted by BBC Radio 6 Music's Huw Stephens was the perfect precursor to BBC Introducing Live's open deck and feedback clinic. BPI chose Low Four Studios as the place to host a networking reception for delegates, and Beyond The Music x LUSH welcomed a line-up of live performance, DJs and experiences themed around wellbeing in support of the #Endtheburnout campaign.
Further partnerships throughout the weekend included linkups between musicians from the Royal Northern College of Music and hotels across the city - Dawn Chorus treated early risers to a series of intimate classical Manchester-inspired lobby recitals. Conversely, those finding themselves taking a Saturday night stroll along Church Street had their senses bombarded with clouds of dry ice and rainbow lights dancing between the pillars of a multi-storey carpark rave courtesy of The Face magazine.
Shining a spotlight on a host of up-and-coming artists, local promoters Fairplay, Sounds From The Other City, Awesome Friends, and Sour Grapes expertly curated line-ups alongside visiting promoters SXSW, Dot To Dot, Nice Swan, and Dork. Wrapping up the weekend, an unofficial after-show party at Manchester pub The Britons Protection saw producer Dan Carey's respected London-based record label Speedy Wunderground unite with revered local music scenesters akoustik anarkhy to host live music and DJs into the early hours. Those still standing witnessed live sets from London buzz acts Viji and Hot Face, plus Manchester's own hotly tipped OneDa and Martial Arts.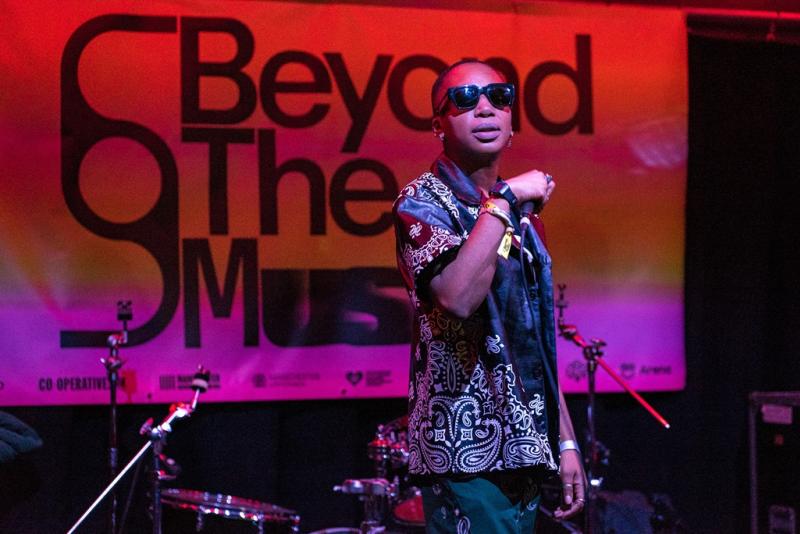 With such breadth and depth of expertise, Beyond The Music demonstrated the sheer scope of cross-industry opportunities available to international investors and how Greater Manchester remains the beating heart of British music.
A place where creative and tech are merging to drive the next wave of global innovation into a thriving £5 billion digital ecosystem, it is no surprise Greater Manchester is officially the UK's Top Digital Tech City. Pushing boundaries by 'doing things differently' its reputation for the radical has seen it take a leading position across established and emerging digital sectors with over 10,000 digital and tech businesses in the city-region and global brands including Google, BooHoo, The Hut Group, and Microsoft.
Yes, the city region's rich musical heritage may be well known; after all, it is home to the Halle orchestra (est. 1857) and the birthplace for world famous artists including The Smiths, Joy Division, New Order, Oasis, The Stone Roses, Blossoms, and The 1975. Not to mention its legacy of the Hacienda nightclub which inspired a whole generation of clubbers to choose Manchester as their home. But with contemporary festivals such as Parklife and Sounds from the Other City, to ground-breaking performances in offbeat venues including the White Hotel, Yes, and The Carlton Club, and now, Beyond The Music, Greater Manchester's musical landscape only looks to expand.
As Beyond The Music prepares for its 2024 return, Greater Manchester continues to be the place emerging acts shine alongside entrepreneurs, creatives, music industry professionals, funders, businesses, and organisations alike.
Click here to learn more about why today, Greater Manchester remains a top-choice destination for creative businesses choosing to establish and grow in the North.