Manchester Metropolitan University's PrintCity is a state-of-the-art 3D Printing facility in the heart of Manchester, equipped with a large range (60+) of 3D printers for manufacturing plastic and metal parts, coupled with a broad range of associated technologies including scanning, CNC milling and laser cutting.
Working with a variety of businesses and individuals, ranging from students and researchers to businesses of all sizes and staff looking to upskill, the facility offers strong on-site support and opportunities for business collaboration within and beyond the University.
PrintCity also runs the PrintCity Network project, a £3.2m European Regional Development Funded (ERDF) programme supporting SMEs in Greater Manchester with the adoption of 3D printing.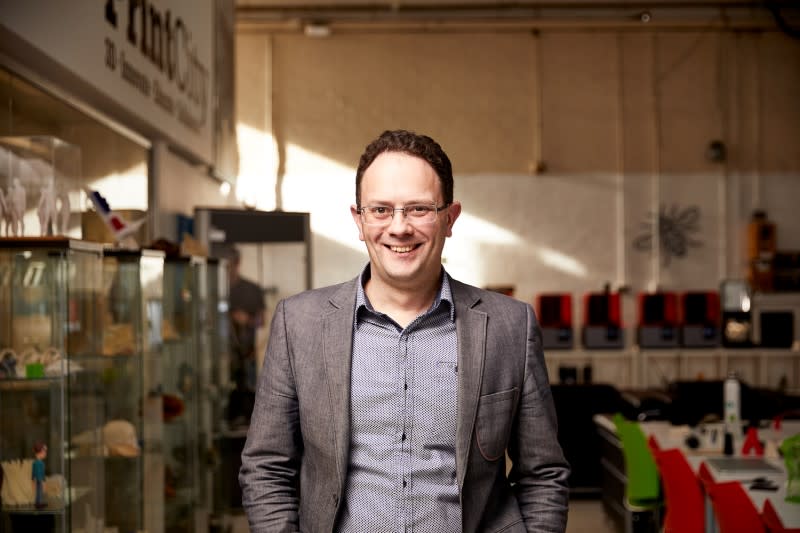 We caught up with its Director Carl to find out more...
Carl, what does your role entail as Director at PrintCity?
I oversee all the PrintCity activities across teaching, research, knowledge exchange and school outreach activities. My role as Director is really varied and no two days are the same. On any given day I could be meeting senior business leaders, developing research proposals, speaking at events, developing the service or teaching our students.
I see my role as supporting our team in meeting their own and our facilities objectives and getting individuals and companies excited about the possibilities that Additive Manufacturing could bring to them and their organisations.
What makes Manchester the ideal location for this industry leading project?
Manchester is a real hotbed for creative and digital innovation. The city is growing at a rapid pace, and we are seeing new start-ups springing up in the city and other technology companies coming and setting up here.
With a rich industrial history, and Manchester being the world's first industrial city and the strength in creative arts, Manchester's businesses are primed and ready for digital transformation. The cities Universities are preparing a strong pipeline of students to bring the digital skills that they develop in their studies into the workplace. It is vital that our students have access to state-of-the-art facilities like PrintCity.
Our fully funded PrintCity Network programme provides SMEs with the latest digital technology and academic expertise to support them to develop new products within their business or adopt new digital workflows. Supported by colleagues in our Business School, the companies have the best possible chance of creating and delivering successful products to the market through the end-to-end project support. Manchester also has good connectivity nationally and internationally and is a great place to live for young professionals and families.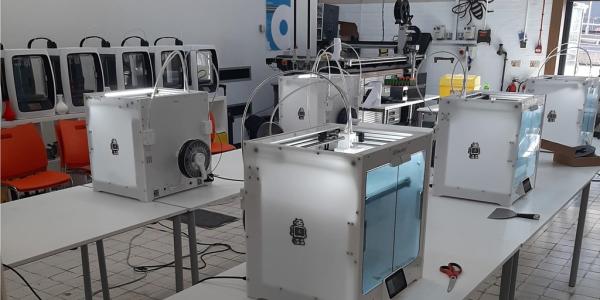 How does adopting 3D printing contribute towards sustainability in Manufacturing?
3D Printing, or Additive Manufacturing (AM), is typically considered a more resource efficient method of manufacturing, as you only add the material that you need compared to traditional subtractive manufacturing methods, such CNC milling or turning, where you generally start with a large block and remove material until you have the part that you need.
AM typically follows a shorter design and manufacturing cycle, meaning the product designer may also manufacture the products locally. The convergence of design and manufacturing allows the designer to integrate eco-design principles into their products.
AM often has much lower set up costs than many subtractive manufacturing processes. With the recent disruption to global supply chains seen through the pandemic and geo-political events, many companies looked to AM to bridge their manufacturing demand or to decentralise how they manufacture goods. Files can be shared electronically globally and manufactured locally, reducing the need for global shipping or centralised manufacturing hubs that have been recently disrupted.
AM technology is well placed to support just in time manufacturing. No longer do goods have to be mass produced, with substantial set up costs, but just manufactured when they are needed and at the quantity needed. With mass customisation and mass personalisation demand increasing, AM is the ideal technology to produce multiple variations of a product, without expensive costs to retool equipment.
We are also seeing an increase in the use of recycled materials in AM which makes the process more sustainable. There is also an opportunity to store spare parts digitally and to only produce when the spare part is needed and in close proximity to that location, rather than storing spare parts in warehouses in case they will be needed at some point in the future. Part consolidation and optimised design for AM also ensure that the overall process is more sustainable.
How do you work with companies to commercialise their products?
PrintCity has supported hundreds of businesses over the last few years. Colleagues in our Business School collaborate with us to help companies commercialise their products. The University has worked with companies to access research funding to develop their products further. Knowledge Transfer Partnerships (KTP's) are one mechanism for companies to collaborate with us to transfer knowledge from the University to the company, giving them access to specialist academic knowledge and state-of-the-art equipment.
We have a dedicated team of experts who have worked on successful projects across a wide range of sectors and who fully understand the capability of the AM technology and the best route to commercialisation.
Greater Manchester has a fantastic regional network of organisations to support new and established businesses of all sizes and we work closely with all of these stakeholders. When companies work with us, we often signpost to the correct follow-on business support project or programme to support them in their next step of bringing their products to market.
You've been travelling to the United States recently to tell them all about the great things happening at PrintCity - How do you work with international markets?
It's been really fantastic to travel again after the pandemic. Although online meetings have been useful, they really can't beat meeting in person to have meaningful discussions and develop those relationships. Some of the PrintCity team visited the USA to meet some companies including some of our machine supplier, review new technologies, to attend and present at a conference and develop some collaborative projects. There are a lot of synergies with how we approach our stakeholder engagement and a real opportunity to collaborate and share best practice.
We are keen to collaborate with local, national and international partners. The AM community really do support each other and collaborate together on projects. We are currently delivering 6 European Funded grant research projects with international partners. Alongside the research, we have been developing projects with global businesses.
What types of businesses will you look to collaborate with?
AM is used by almost every sector, and we have supported businesses across many of them. Our ERDF funded projects offer fully funded support Small to Medium sized Enterprises (SMEs) but we also worked with large global companies too. Some companies looking to relocate to Greater Manchester are looking for talented graduates and PrintCity has a talent pipeline that they can hire from.
What is the criteria for eligibility for the PrintCity Network programme?
It is quite a straightforward process, companies have to be an SME, have a trading address in Greater Manchester and sell business to business (B2B) to be eligible for the project. All companies go through eligibility checks prior to joining the programme. We run workshops every few weeks, so companies can sign up and get involved in quite a short time frame.
What is a common myth about 3D Printing you'd like to bust, through your work?
There are two perceptions that frustrate me about 3D Printing.
1. That it is low quality prototypes made by hobbyists which is not the case. The technology is being used for high precision manufacturing in all sectors including construction, media, fashion and aerospace, to name a few.
2. That 3D printing will replace other subtractive manufacturing processes. We start every consultation with what the company is trying to achieve to understand the part geometry, volumes needed, materials, number of components and application these are some of the questions to help us understand if 3D printing is the correct manufacturing technology.
On a number of occasions, we have advised companies to use injection moulding, CNC milling or laser cutting or even a combination of 3D printing and traditional manufacturing where you can ensure a fully functioning component that can be produced efficiently and repeatably.
Details/links to upcoming events or projects you would like to share.
Circular Economy Network research projects | Manchester Met (mmu.ac.uk)

CIRMAP – 3D printing concrete street furniture using recycled fine aggregates instead of virgin sand.

TRANSFORMS-CE – making 3D printing filament from post-consumer waste plastics.

ShaRepair – extending the life of electronic equipment by creating an open-source database of 3D printable spare parts.

Eco-I North West - helping businesses to create new products, processes and services to establish their position in a low carbon future* · PrintCity Network – helping businesses develop new products, goods and processes using additive manufacturing.
* Fully funded ERDF business support projects.
For more information, visit PrintCity - Manchester Metropolitan University - 3D - Innovate - Educate - Collaborate (mmu.ac.uk)