1. Rich in Heritage, Rich in Innovation
Manchester has been at the forefront of cancer research for over a century. Pioneer nuclear physicist and Nobel Prize winner Ernest Rutherford performed his pivotal experiments in Manchester, the birthplace of nuclear physics, between 1914 and 1919, becoming the first person to create an artificial nuclear reaction in laboratories at The University of Manchester. His discovery established the idea of atomic structure and would be crucial to later research into the use of radiotherapy.
Radiotherapy
Manchester is also the home to many other world-leading or practice-influencing discoveries in radiotherapy research. In the 1930s, the Manchester Method used to calculate radiotherapy dose was developed here by Ralston Paterson, Herbert Parker, and others. Manchester was also a contributing party to the introduction of image-guided, intensity modulated radiotherapy and stereotactic ablative body radiotherapy into routine clinical practice. The Proton Beam Therapy Centre at The Christie was the UK's first high energy proton beam therapy available on the NHS, and The Christie is now home to advanced techniques including the MR-LINAC which provides targeted radiotherapy delivered through combining imaging with treatment delivery. These new techniques are paving the way for advanced, targeted radiotherapy from one of the largest radiotherapy research hubs in the world.
Biomarkers
The Manchester region brings together concentrated 'biomarker' research, recognised as an integral part of the overall vision to deliver precision medicine for all. Directed by Professor Caroline Dive, The Cancer Research UK Manchester Institute Cancer Biomarker Centre (CBC) is a world-leading, and outstanding-rated centre of excellence. Biomarkers are essential to predict and monitor tumour response to therapy, which enables more personal treatments that maximise benefit and reduce harm.
Other uses of biomarkers include early detection of cancers, earlier warning of disease relapse after treatment, information to anticipate therapy resistance, and indicate optimised treatment switching. The National Institute for Health and Care Research Manchester Biomedical Research Centre also adds to the city-region's expertise in this area, which has recently been renewed for a further five years.
Disease-specific areas
Manchester is renowned for its research covering several different disease specific areas. With 3,000 new cases of breast cancer diagnosed in Greater Manchester each year – out of 50,000 cases across the UK – research for new treatments has become intensive. Established in 2005, the Manchester Breast Centre (MBC) fosters collaborative research amongst breast cancer specialists across the city-region, co-ordinating all basic and translational breast cancer research. The collaborative approach is already leading to more effective early detection, prevention and treatment of the disease.
Neuro-oncology is also quickly becoming another core cancer research strand. The newly formed Geoffrey Jefferson Brain Research Centre focuses on complex tumours of the brain, central nervous system, skull base and pituitary gland. The focus of this innovative and multidisciplinary centre is on translational research, promoting scientific discovery and developing strategies to improve pre-operative diagnosis and surgical techniques, maximising the response to post-operative treatment and minimising undesirable side effects. 
2. World Leading Assets and Expertise Set in a Highly Collaborative Eco-System
The Christie NHS foundation Trust
Having first opened its doors in 1901, The Christie is the largest single-site cancer centre in Europe, treating more than 60,000 patients each year. It's the first UK centre to be accredited as a comprehensive cancer centre and is home to one of the largest single-site early phase clinical trials units in the world. With its own School of Oncology - the first of its kind – The Christie strives to enhance the education and knowledge of healthcare professionals across the country.
Manchester Cancer Research Centre
Set up in 2006 by three partners: The University of Manchester, Cancer Research UK, and The Christie NHS Foundation Trust, the Manchester Cancer Research Centre (MCRC) is a world-leading asset. Since its creation its reach has widened to drive forward cancer research in other NHS trusts within Greater Manchester and to link with other cancer-specific funding bodies. The Centre is a unique collaboration that brings together the expertise, vision, and resources of its partner organisations, all of which have formidable individual reputations in the field of cancer research. International cooperation with institutions in China, Australia, North America, and Europe also drives forward the MCRC's strategic ambition to be one of the top translational cancer research centres in the world.
The University of Manchester
The University of Manchester is one of the largest universities in the UK and has set 'cancer' as one of its five intensive research beacons. Led by world-renowned scientists such as Professors Robert Bristow, Caroline Dive and Gareth Evans, research ranges from understanding the molecular and cellular basis of cancer to the development and testing of novel drugs and other therapeutic approaches. Through nursing, psychology and policy work, solutions to the physical, emotional, and economic impacts of cancer are being researched and put into practice across the university.
Cancer Research UK, Manchester Centre
Created in 2013, and officially recognised as a 'Major Centre' in 2015, the Cancer Research UK Manchester Centre draws together researchers from five distinct research themes – Prevention and Early Detection, Radiotherapy, Biomarkers, Experimental Cancer Medicine and Molecular Pathology and Tissue Acquisition – with a vision to implement basic and discovery science into an integrated personalised medicine strategy.
Bruntwood SciTech: Creating innovative life science communities
Bruntwood SciTech's Citylabs - part of Europe's largest clinical academic campus and a world-class hub for health innovation and precision medicine – is home to cluster of Diagnostics, MedTech, Digital Health and Genomics businesses driving the future of healthcare. Located within and in partnership with Manchester University NHS Foundation Trust's Oxford Road campus, Citylabs offers the perfect location for companies looking to grow and scale, with direct access to the NHS and over 20,000 STEM graduates each year. In addition, Manchester Science Park is one of the UK's most established science and tech communities which offers a vibrant and highly collaborative neighbourhood providing access for businesses to the NHS and local universities for innovation projects.
Health Innovation Manchester
Through extensive local, national, and global collaborations, Greater Manchester is becoming a major biomedical and health hub, and as the first UK region to have control over a devolved health and social care budget of £6 billion, Health Innovation Manchester helps to drive forward academic health science and innovation into clinical practice. It brings together the research, education, and clinical excellence of the Department of Health designated Manchester Academic Health Science Centre (MAHSC) with the expertise and national connections of the Greater Manchester Academic Health Science Network (GM-AHSN). As one of fifteen AHSN's in England, HInM have a specific mandate to discover, develop and deploy new innovations into the health and social care system.
By harnessing the skills of our world-leading researchers, Health Innovation Manchester fosters partnerships with industry to support the NHS and social care providers. It also promotes health innovation through digital technology, changes to practice or optimising medication.
3. Strong Delivery of Clinical Trials to Change Clinical Practice
Manchester has the facilities, heritage and expertise the drive the best possible research into cancer treatment and care. The Christie hosts up to 500 clinical trials every year and is a leader in 'first-in-human' trials and tackling inequalities in the local patient population.
Beyond Manchester, our research influences clinical practice across the world. From the ABC trials that set world-standards for patients with biliary tract cancer, led by Prof. Juan Valle to establishing new treatments for patients with lymphoma led by Prof. Tim Illidge and Prof. John Radford, many clinical discoveries can trace their roots back to Manchester.
This strong portfolio of clinical research is underpinned by influential clinical investigators and best in class facilities including:
The Christie NHS Foundation Trust,
The National Institute for Health and Care Research (NIHR) Manchester Clinical Research Facility (CRF) at both The Christie and Manchester University Foundation Trust
The Manchester Clinical Trials Unit (CTU).
Early phase clinical trials operate through the Experimental Cancer Medicine Centre (ECMC) with support from the NIHR Manchester CRF and The Christie, making it one of the largest and top recruiting early phase sites in Europe.
4. Maximising Patient Access to Advanced Therapies
Awarded £7 million of funding from Innovate UK, The Innovate Manchester Advanced Therapies Hub (iMATCH) is one of three UK Advanced Therapy Treatment Centres and has been working to scale up activity in both cell and gene therapy since 2018.
Delivered through a Manchester-based consortium including The Christie, Northern Care Alliance Foundation Trust, The University of Manchester, and nine commercial partners including AstraZeneca and Instil Bio (UK), the Hub is focused on maximising patient access to Advanced Therapy Medicinal Products (ATMPs) through integration of sample collection; development of electronic sample traceability and tracking systems utilising novel digital implementation.
Through innovative systems of clinical data, iMATCH aims to increase the knowledge and safety of these complex treatments and develop educational materials to prepare NHS staff and provide the understanding required for working with these ground-breaking treatments and sharing best practice across the industry and NHS.
5. Transforming Sample Collection for Ground-Breaking Cancer Research
Established in 2008, the MCRC Biobank has transformed the way biological samples are collected and supplied for ground-breaking cancer research projects within the MCRC and beyond. It brings together organised tissue, blood, and other sample collection across four NHS Trusts under one centralised infrastructure and governance framework, to facilitate the provision of high-quality samples as efficiently as possible.
Described by UKRI as "One of the most important resources for population health in the world," the UK Biobank is set to open a new Manchester headquarters which will provide a large-scale biomedical database and research resource. Working alongside the MCRC's existing archive and laboratories, and The University of Manchester, the new biobank HQ will stimulate academic and commercial impact in an area identified by the UK Government as an emerging global hub for genomics and data.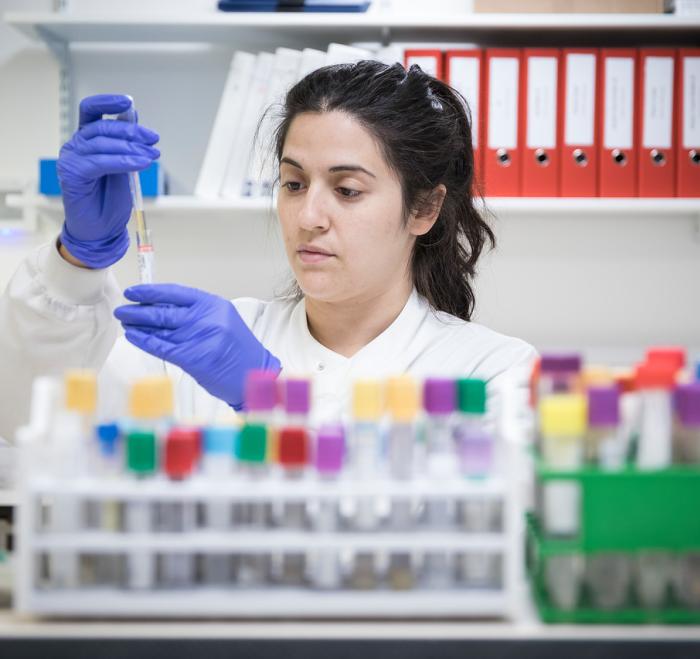 6. Understanding the Impact of Genetics for Cancer Diagnosis
There is a joint programme of cancer genetic research delivered by The University of Manchester, The Christie, the University Trust and the Wythenshawe Trust. Together, the team conducts translational research covering a number of inherited cancers and related syndromic conditions, from basic science through observational studies to clinical trials. The Manchester Centre for Genomic Medicine undertakes risk assessment for individuals who are either affected with cancer themselves and/or have a family history of cancer. These assessments include how likely it is that the cancer is genetic, what an individual's risk is, whether genetic testing is possible or appropriate and how best to deal with the increased risk. This may include information about genetic testing, referral for screening or consideration of risk reducing surgery.
The MIDAS Life Science and Healthcare team sits at the heart of the city-region's Oncology ecosystem and can help companies looking to engage with relevant organisations and research areas. To find out more contact Deborah Walker, Head of Business Development, Life Science and Healthcare.

Richard Fountain

Business Development Manager – Life Sciences