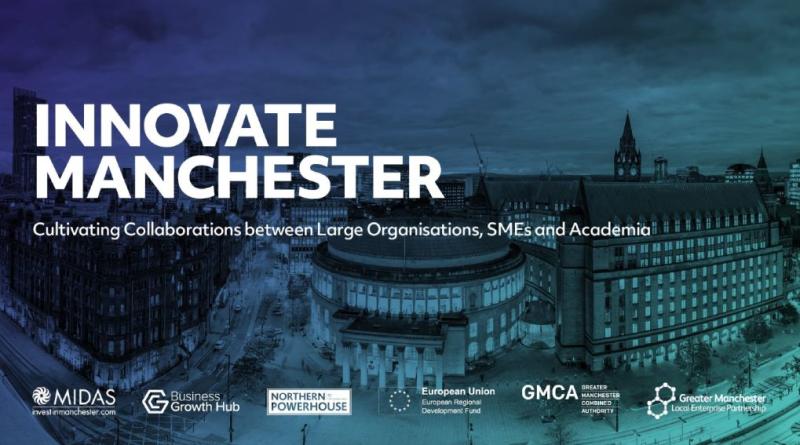 About Innovate Manchester
Innovate Manchester is designed to find fresh ideas and tangible solutions to challenges faced by local businesses.
The new 2022 programme will consist of four themed cohorts running from September 2022 to January 2023, bringing together large organisations, Greater Manchester SMEs and academics with the dedicated and ongoing support of MIDAS and the GC Business Growth Hub.
We are delighted to launch the third challenge with Accenture.
Can you rise to the challenge?
Innovate Manchester is looking for SMEs who are open to collaborate and have significant expertise in team engagement and online platform development.
This exciting opportunity will provide the successful SME with the opportunity to work directly with Accenture to help develop a solution. You can view Accenture's website here.
'The Challenge'
Accenture is looking for a partner who can help them build a sense of community among their employees in the North West region as they operate in geographically diverse project teams.
Accenture is seeking to expand its presence within the region, and there is a strategic goal to increase community interaction between their employees.
How might Accenture use gaming techniques, automation and leading UX to increase team engagement within the region?
As Accenture already offer work-based events and initiatives, their preferred approach is to offer employees the chance to connect on interests outside of the workplace. Ideally, they would like an online platform to drive in person activity.
Specifically, they do not want a knowledge exchange, portal, recognition, or performance solution - Accenture need an engagement solution that the community can manage and that empowers employees though a platform to connect with each other.
About Accenture
Accenture is an international professional services company, specialising in information technology services & consulting. They have ~725,000 employees globally, with ~15,000 in UKI & ~1,300 in the North West.
The opportunity for SMEs in Greater Manchester
Greater Manchester based SMEs interested in providing a solution are invited to express interest in learning more at an innovation workshop on Tuesday 6th December. Please see the SME brochure for more information on the Innovate Manchester programme and eligibility criteria.
The workshop will include representatives from Accenture, a select number of SMEs, specialists in this field from GC Business Growth Hub, MIDAS and local universities (as appropriate).
The workshop will comprise of a panel discussion and Q&A session with the opportunity to learn more and speak directly to representatives from Accenture. Following the workshop, Accenture will shortlist SMEs to pitch for the project and those selected will receive pitch support from GC Business Growth Hub specialist Advisors and key academics in the field of employee engagement and the development of online platforms.
Next steps
For more information, please contact Katherine Barr: katherine@elevategm.com. 
Please sign up to register your interest. You may be asked to provide further information before having your place confirmed.
Innovate Manchester and other GC Business Growth Hub projects are part-financed by the European Regional Development Fund (ERDF) as part of the GC Business Growth Hub project designed to help ambitious SME businesses achieve growth and increase employment in Greater Manchester. The Hub is also supported by the Greater Manchester Combined Authority and Greater Manchester local authorities.