International luxury packaging manufacturer Max Fame Group opened the doors to its first UK base in Trafford, Greater Manchester yesterday,  following an investment worth up to £6.8m* to the local economy. 
Founded over 40 years ago, Max Fame specialises in modern manufacturing for sustainable packaging in sectors including electronics, food, drink and cosmetics and has an existing global presence with five factories across China, Vietnam and Thailand.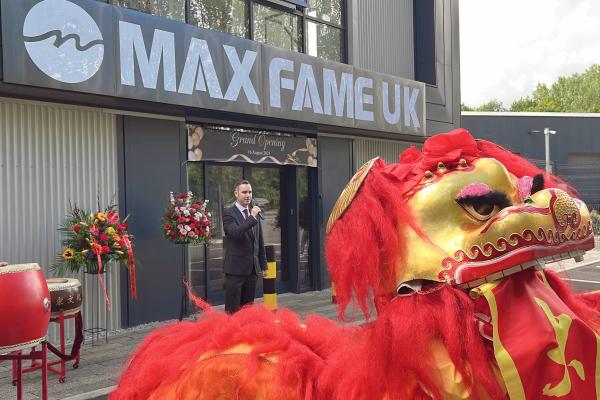 With support from MIDAS, Greater Manchester's Inward Investment Agency that has a strategic aim to secure significant levels of new investment for the city region, Max Fame has signed a 10-year lease on a 21,500 sq ft logistics building at Carrington Gateway in Trafford and will make an initial £1m capital investment that will create 100 jobs in the next three years as part of its global expansion. 
Greater Manchester has been identified as a high potential opportunity for sustainable packaging by the Department of Business and Trade, thanks to the clear pipeline of opportunities available for businesses. The city-region is home to an innovation-driven food, drink, and packaging cluster of over 700 companies, with market-leading technology and innovation, capabilities and skills.
David Hsieh President of Max Fame said
"Greater Manchester's focus on low carbon initiatives, deep talent pool and ideal geographical location create excellent conditions for investment and entrepreneurship, making it the best choice and an important base for our global supply chain.  

 

I would like to thank the MIDAS team and colleagues for the many services and assistance they kindly provided during the process. We look forward to continuing this working relationship to make substantial contributions to the low carbon agenda of the city-region and its communities."
Joe Manning, Managing Director at MIDAS said
"Our existing expertise in advanced manufacturing and growing status as a hotbed for sustainable innovation is leading global leaders in their fields to build and expand in Greater Manchester. Max Fame is the perfect example of the positive impact of foreign inward investment in creating jobs and opportunities locally. MIDAS and the Manchester China Forum have worked closely with Max Fame to secure this investment."
Trafford Council Leader Tom Ross said 
"It's great to welcome a fantastic addition to our green economy. I'm delighted that Max Fame have recognised the talent and acumen we have here in Greater Manchester. Attracting a global manufacturer to Carrington will also create more jobs and be an extra boost for our region."
About
*GVA is an estimate of the total economic impact that the investment project will have on the region. It is a function of the volume of job creations within the particular industry sector, over a three year period.
MIDAS
Established in 1997, MIDAS is Greater Manchester's inward investment agency, with a strategic aim to secure significant levels of new investment for the city region to create and safeguard jobs. MIDAS forms part of the Growth Company, an award-winning social enterprise with a mission to enable growth, create jobs and improve lives.  
For further information contact 
MIDAS Communications Manager, Maya Powell