Greater Manchester Mayor Andy Burnham and other Civic and business leaders from across the city-region welcomed the UK India High Commissioner His Excellency Mr V Doraiswami

Organised by Manchester India Partnership and MIDAS, the visit aims to highlight the relationship between India and businesses, universities and the public sector in Greater Manchester

2023 promises to be pivotal in the UK-India relationship as negotiations for a free trade agreement draw closer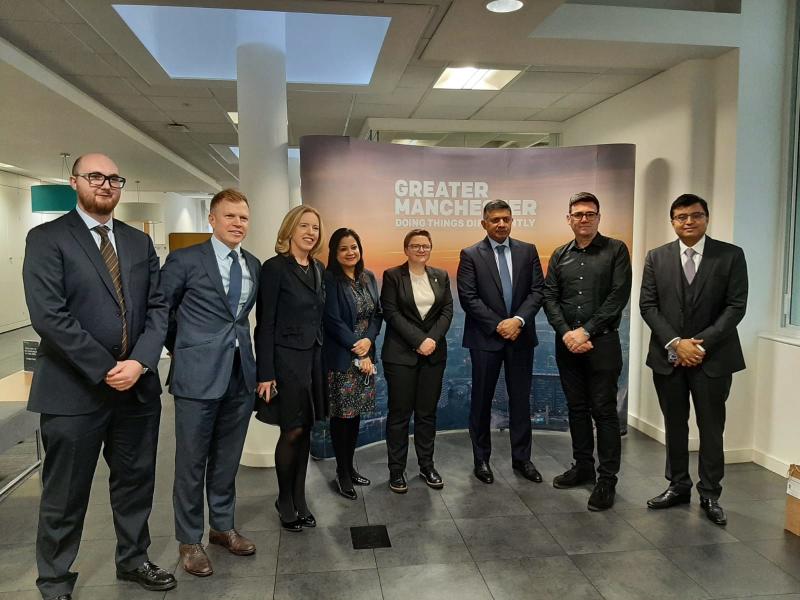 Local Civic and business leaders welcomed His Excellency, Mr Vikram Doraiswami India High Commissioner in the UK, to Greater Manchester on Friday 13th January, for meetings to highlight and celebrate the importance of India to the city-region and explore opportunities for future partnership.
The visit was delivered by the Manchester India Partnership - an award-winning organisation established in 2018 by the Greater Manchester Local Enterprise Partnership – and Greater Manchester's inward investment agency, MIDAS, to bring together businesses, universities, and the public sector to develop a strategic approach to engaging India, in collaboration with the Department for International Trade.
The country's initiatives in key sectors such as Cyber, eCommerce, Low Carbon and Health Innovation align closely with GMs strengths in these areas; creating huge opportunities for mutually beneficial investment, innovation and job creation.
Whilst in the city-region, Mr Doraiswami visited The University of Manchester and the National Graphene Institute to learn more about the institution's R&D activity in India and the University's growing Indian student population.
The High Commissioner also met with local MPs, Indian businesses and organisations in the area, including Welspun, one of India's fastest growing global conglomerates based in Stockport.
Mr Doraiswami was also introduced to the team at The Manchester Museum, set to reopen next month with a brand-new South Asia gallery that will showcase Greater Manchester's diverse cultural environment and the strong historical links the city-region shares with India.
Greater Manchester Mayor, Andy Burnham said
 "It was a real honour to welcome the Indian High Commissioner in the UK to Greater Manchester. India is a key partner for our city-region and the range of businesses and institutions we met with reflect the strength and significance of our relationship.

 

"Just last year the Manchester India Partnership launched a refreshed strategy which sets out how we plan to develop the relationship further, building on shared ambitions around trade, investment, education and tourism. The Partnership will continue to play a pivotal role as we look forward to strengthening ties with India."
The High Commissioner of India in the UK,  His Excellency Mr Vikram Doraiswami said: 
"As a venue of innovation, industry and entrepreneurial energy, Manchester offers exciting partnerships for India. Over 30 Indian firms are already generating value, sustaining iconic brands, and sustaining local employment.

This partnership is expected to grow in future as synergies in new fields like clean energy and green mobility emerge. That apart, the area will always have a special place for many Indians because of its iconic stadiums, cricket and football teams.'"
Manchester India Partnership Chair, Simon Arora added, 
"India is a priority Foreign Direct Investment and trade market for Greater Manchester and we are committed to maintaining and growing this relationship

It was an honour to welcome Mr Vikram Doraiswami to the city-region to share ideas and opportunities for mutual growth and prosperity; we look forward to the future of this partnership."
In September 2022, The Manchester India Partnership (MIP) launched a refreshed strategy to harness the power of its high-level networks in the UK and India.
ENDS
For further information please contact 
Communications Manager, Maya Powell  
Maya.powell@marketingmanchester.com  
NOTES TO EDITORS
ABOUT MIP
The MIP was set up in February 2018 as a special purpose vehicle by the Greater Manchester Local Enterprise Partnership, MIDAS - Manchester's inward investment agency, Deloitte and the Manchester Airport Group, to unite businesses, academia and the public sector across India and GM to build and strengthen trade, investment, innovation, cultural and educational ties.
ABOUT MIDAS
MIDAS is the inward investment promotion agency for Greater Manchester, with a strategic aim to secure significant levels of new investment for the city region to create and safeguard jobs.
This is achieved through the global business marketing of the city region's key sectors and the provision of an extensive package of free advice and assistance for potential investors and location consultants.
MIDAS has helped hundreds of businesses successfully relocate to or expand in Greater Manchester.