His Excellency Vikram Doraiswami, the High Commissioner of India to the United Kingdom, has recently visited Stockport constituency in the first ever visit of an Indian High Commissioner to Stockport Borough. In Stockport, the diplomat was given a tour round Christy Towels of England - a towel company which supplies and sponsors Wimbledon - owned by Indian parent company Welspun.
The visit, which was facilitated by the Labour Member of Parliament for Stockport Navendu Mishra, comes at a time when the UK government is negotiating a trade deal with India. Such a deal has been previously welcomed by Labour Leader Sir Keir Starmer MP, who in a statement in the House of Commons chamber, has stated that:
"Labour does support a trade deal with India, which we believe can bring new opportunities to promote and create new jobs here in Britain".
Research drawn from Written Parliamentary Questions tabled by Mishra show that in the year 2021, the North West of England exported over £350 million of goods to India and a trade deal between the two countries could boost the region by up to another £304 million.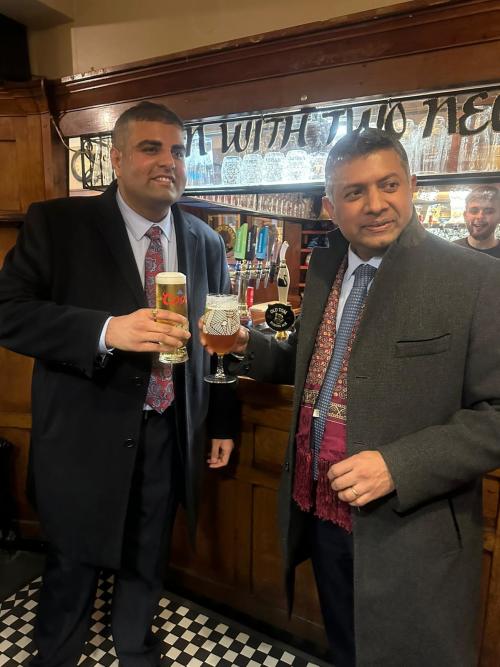 As the High Commissioner is known to be a keen football fan, Mishra gifted him a framed Stockport County shirt, along with a selection of beer from Robinsons brewery, a company founded in 1849 in Stockport. Following the visit to the constituency, the High Commissioner subsequently met with Labour figures in the region, including Greater Manchester Mayor Andy Burnham, and hosted members of the British Indian community at a reception in Manchester city centre.
Navendu Mishra MP commented that:
"It was a pleasure to host the High Commissioner of India in Stockport. We discussed at great lengths the benefits a trade deal could bring to this region and His Excellency saw first-hand the international co-operation between our region and India, with our visit to Christy Towels." I hope this is the first of many visits moving forward."