Manchester headquartered Kellogg's has announced the opening of a new food innovation centre based at its Trafford Park factory.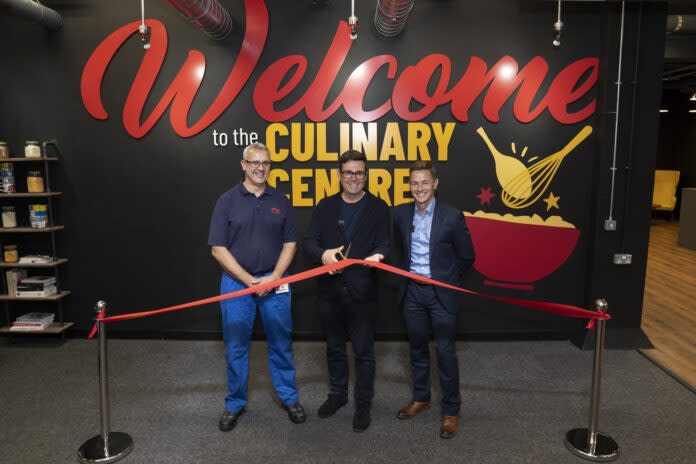 The Culinary and Sensory Centre, officially opened by Greater Manchester Mayor, Andy Burnham, has taken over 18 months to develop and consists of a packaging design lab, a culinary kitchen, a sensory hub and a small-scale cereal factory. The business has invested more than half a million pounds into the hub, which will be home to Kellogg's team of food developers, culinary experts, chefs and packaging designers.
The cereal giant, currently celebrating 100 years since it first arrived in the UK, already has a history rooted in innovation and was one of the first in the food industry to hire a registered dietician, as well as the first to print nutrition messages and product information on cereal boxes.
Manchester is already home to many of the business' cereal creations – including the much-loved Crunchy Nut, that was first thought up at Trafford Park back in 1980.
The launch of the centre comes as part of Kellogg's decade long plan to improve its foods so that they are better for people, the community and the planet. One of the first projects to come out of trials at the hub was the recent reduction of salt in Special K – reducing it by an average of 20%¹ across the cereal range but keeping the same taste.
As well as reformulation, the space will also be a centre of innovation where Kellogg's team of experts are able to trial new cereals, test new ingredients, experiment with recipes and invent the foods of the future.
The inclusion of the packaging design lab will allow the business to trial new sustainable packaging options as it moves towards its commitment towards 100 percent reusable, recyclable or compostable packaging by the end of 2025.
The business hopes to bring the outside in at the new Culinary and Sensory Centre, and will be continuing its partnership with local charity, Foundation 92, to ensure that the communities they support can benefit.
Chris Silcock, Kellogg's UK vice president, said:
''As Kellogg's this year celebrates its 100th anniversary since launching in the UK, it's incredibly exciting to be opening a hub of food innovation as we look to what's to come for us in the next 100 years.

The space will be the source of new products, innovative packaging solutions and reformulation – that will not only be rolled out across the UK but will be seen by consumers across Europe.''
Jason Billingham, Kellogg's senior director R&D, said:
''This new centre in Manchester will allow us to innovate and create in ways we've never done before. It's something we've been working towards for a long time, so it's great to now see it come to life.''