A pioneering programme backed by global tech businesses and the UK's National Cyber Security Centre (NCSC), has resulted in £1.57 million of social impact in less than 12 months, establishing 13 local schools and colleges from Lancashire and Greater Manchester as among the best in the UK for cyber and STEM education.
This means that for every £1 invested in the programme, there has been a Social Return on Investment (SROI) of £2.57 in the regional community, further boosting cyber education in the North West Cyber Corridor.
CyberFirst Schools & Colleges is an initiative set up by the NCSC, a part of GCHQ, and delivered by IN4 Group in the North West, to encourage a more diverse range of young people to pursue careers in the cyber sector.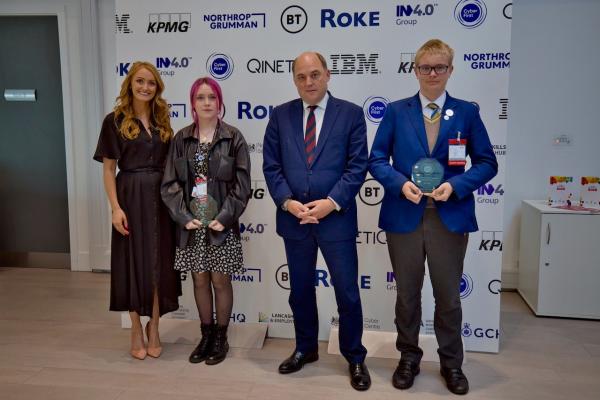 The programme is focused on the most disadvantaged and deprived communities with over 35% of the students supported by the pupil premium, which is a grant given to schools from the government to improve the education of underprivileged children.
There has been an investment of over £600,000 and a contribution of more than 2,200 hours dedicated to the CyberFirst North West programme from across the public and private sector, including its Apex partners: IBM, Northrop Grumman, KPMG UK, QinetiQ, Roke and BT.
IN4, a specialist in enabling regional ecosystems to scale, has created this unique innovation blueprint which others can adopt to create sustainable impact and growth in the UK regions.
CyberFirst North West has exceeded targets in its first year with 13 schools being awarded formal recognitions and 29 events facilitated to promote and encourage an interest in cyber.
To mark this achievement, Ben Wallace, the Secretary of State for Defence and MP for Wyre and Preston North, spoke at a celebration event held at BAE Systems' site in Samlesbury.
Defence Secretary, Ben Wallace said:
"By opening up opportunities for young people to build exciting careers in cyber skills in the North West, we are expanding the range of durable careers in this area, bringing both benefits to those involved and the wider community. 

"This is absolutely about up-skilling and levelling-up and I am hugely heartened to see the investment and progress being made."
Joined by key industry figures, universities and leaders from organisations including the NCSC, National Cyber Force (NCF), the Lancashire Enterprise Partnership (LEP) and the Greater Manchester Combined Authority, there was an awards ceremony for students and teachers from schools and colleges across the region.
The NCF is a Ministry of Defence and GCHQ partnership that conducts cyber operations to protect the UK. The NCF will establish its future home in Samlesbury, in an exciting opportunity to help grow technology, digital and defence sectors, and encourage partnerships between government, industry and education in the region. 
NCF is working closely with local partners to ensure its successful establishment at the heart of the North West Cyber Corridor. These relationships are key to identifying and building clear pathways for future career opportunities.
IN4 has plans to scale the initiative by launching the TalentFirst programme, which will have an even wider reach into communities as it expands further across the North West to Cumbria, Merseyside, Cheshire and Warrington, and the UK, into the West Midlands. The focus is on reaching young women and underrepresented groups who are the furthest away from the sector due to barriers such as social capital, support from education and work experience.
With only 22% of the UK's cyber security workforce represented by women - a major objective is to inspire girls, particularly those from disadvantaged backgrounds, to take an interest in technology during school, college, or university. This is part of a bigger ambition to see more than 200,000 young women pursue careers in STEM in the North West over the next 10 years.
Mo Isap, CEO of IN4 Group, said:
"By providing this comprehensive support to schools and colleges, the pioneering CyberFirst North West programme strives to ignite a passion for cyber security among young minds and cultivate a more diverse and inclusive talent pool.

Having laid the foundations of our unique innovation blueprint in the establishment of the North West Cyber Corridor, this is a hardwired invested collaboration spanning across public and private sectors, and in return, we are realising the true value of the investment the government is making in the region through the National Cyber Force.

"This is a significant opportunity to inspire the next generation, the bringing together of education, skills, technology, and industry is the key enabler to creating prosperity in communities across the UK. It will only further galvanise and grow the existing collaborative and mutually beneficial working relationships."
Lindy Cameron, Chief Executive of the National Cyber Security Centre, said:
"Developing a diverse cyber workforce is vital for ensuring the UK remains safe online and we are committed to removing barriers so young people can pursue careers in the field.

"I am delighted to see the positive impact our CyberFirst initiative is having in the North West – recognising schools for the very best in cyber education and helping pupils develop valued tech skills.

"Working with IN4 Group, I look forward to seeing the programme grow across the region, paying dividends for the local ecosystem and contributing to our national cyber resilience now and into the future."
ENDS
Notes for Editors
Link for further information about CyberFirst North West: https://www.hostsalford.com/programmes/cyberfirst/
Link to download hi-res images and the CyberFirst North West Social Impact Report 2023: https://drive.google.com/drive/folders/1LA9Ze8k1ocM7eTOvCgDdaaE34Fx8D8x7?usp=share_link
Image descriptions: 
L-r:  Lauren Monks, Director of Careers Education Programmes at IN4 Group; Charlotte from Winstanley College; Defence Secretary Ben Wallace; and Norbert from Moor Park High School and Sixth Form.
Image is from the CyberFirst North West Schools & Colleges celebration.
Recognised Schools: 
Montgomery Academy – Silver - Lancs 
Altrincham Grammar School for Girls – Silver - GM
Denton Community College – Bronze - GM
Tauheedul Islam Girls' High School – Silver - Lancs
Fleetwood High School – Silver - Lancs
Academy@Worden – Silver - Lancs
Moor Park High School & Sixth Form – Bronze - Lancs
Hyde High School – Bronze - GM
Kingsway Park High School – Bronze - GM
Tauheedul Islam Boys' High School – Silver - Lancs

Recognised Colleges: 
Runshaw College – Gold - Lancs
Cardinal Newman College – Gold - Lancs
Winstanley College – Silver - GM