Leading national engineering consultancy Pell Frischmann has announced further investment in Manchester, with a significant office expansion into St James Square.
The company first landed in Manchester in 2018 with one employee and has rapidly grown its headcount to 50 as a result of successful projects delivered across the region, creating a variety of jobs for people based locally including apprenticeships, graduate positions through to senior consultants and directors. 
The new office space, spanning 7K sq. ft, will serve as a centre for collaboration and innovation and will be a central hub for the family of companies under the parent company RSBG UK group, including McBains, 4Way, and Desco.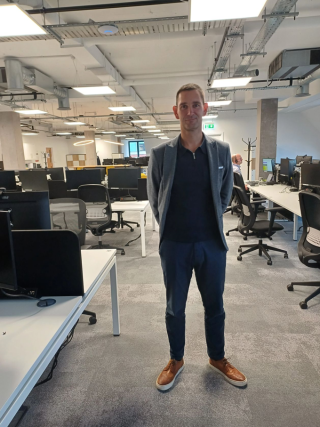 Matthew Davies, Wales & North West Growth Director at Pell Frischmann said:
"Greater Manchester is a wonderful place to live, work and enjoy. Pell Frischmann have had great success, continuing growth, achieving enhanced reputation by delivering a high quality, responsive service with best-in-class communication. We have built a high performing team here and that has been aided by the access that we have to a broad talent pool of real quality people with the unique work ethic that exists in Manchester.

Pell Frischmann has a long standing, demonstrable reputation for the delivery of complex, high profile projects of scale and we are delighted to have been able to support GMCA, Manchester City Council, Bury Council, Rochdale Council, Stockport Council and Tameside Council in the delivery of their major investments and transformational projects.

Manchester has always done things their own way, been brave, set its own agenda and so we are confident in a bright future, continued business growth and are pleased to be playing a part in the success of this wonderful city region.
Councillor Eamonn O'Brien, Leader of Bury Council, said
 "I am always delighted to share and celebrate in the successes of businesses in Bury and across Greater Manchester, especially when those businesses are an important part of our Northern Gateway. I look forward to working with and celebrating the future successes of Pell Frishman as they work with us on the Northern Gateway and continue to grow their business."
Rachel Eyre, Head of Advanced Manufacturing and Low Carbon at MIDAS, Greater Manchester's Inward Investment Agency added:
"It's great to see a market leader such as Pell Frischmann grow with the city-region and support some of our most important developments along the way. Not only has the team provided invaluable expertise on projects most integral to the local economy, but their work is completely aligned with Greater Manchester's aspirations for the environment and our residents.
Pell Frischmann has supported the delivery of some of Greater Manchester's most economy-driving growth clusters that represent transformational change across the conurbation. These include Northern Gateway, Victoria North, Port Salford, Cheadle Railway Station, Ashton Streetscape and Bury Active Travel Network.
Pell Frischmann is also committed to delivering a positive social value impact on society, the economy and the environment within which they work. Specifically, the Manchester office has supported a multitude of schools, voluntary sector organisations, charities and positive initiatives across the city and Greater Manchester.
ENDS
Notes to Editors
Pell Frischmann is an international, multi-disciplinary consulting engineering company with over 90 years of experience in the built environment. We offer consultancy services, with access to specialist sister companies and partners, to support both public and private-sector clients. We work across sectors encompassing buildings, infrastructure and regeneration.
Contact Information

Co. Name

Pell Frischmann

Contact Name:

Kevin Boamah

Phone

07538 785 062

Email

marcomms@pellfrischmann.com