Five buildings, including proposals for the city's tallest at 213 metres, make up the next phase of the developer's skyline-transforming Great Jackson Street masterplan. 
Renaker has today unveiled plans for a 71-storey tower dubbed the Lighthouse that would overtake South Tower at Deansgate Square as Manchester's tallest building.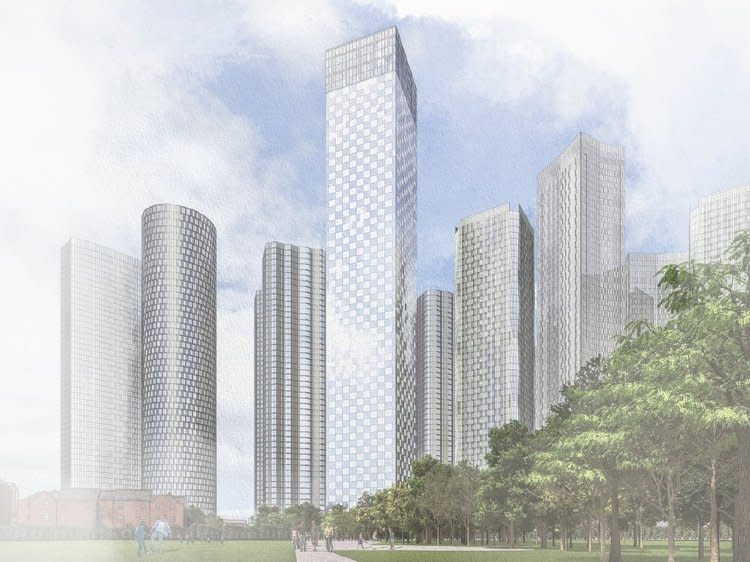 View the proposals for Manchester's tallest tower
The skyscraper, which would feature a restaurant on its 71st floor, would be UK's tallest building outside London. 
Designed by SimpsonHaugh Architects, the next phase of the Great Jackson Street masterplan would also see four more towers built across two plots. Two would be 47 storeys and two would be 51 storeys.
Overall, the scheme will see 2,388 homes delivered across just over 1.2 acres, including DeTrafford's former Transition site, which Renaker acquired last year. 
Previous plans for the site proposed a 400-home development. Renaker's latest scheme would see the density of the development turbocharged and would bring the total number of homes delivered or in the pipeline at Great Jackson Street to more than 7,000. 
The consultation for this next phase of Great Jackson Street concludes on 20 February. The consultation website is greatjacksonstreet-consult.co.uk.
Great Jackson Street: the story so far 
So far, Renaker has completed six buildings within the masterplan area. These include the four-tower Deansgate Square cluster, Elizabeth Tower, and Victoria Residence. 
Together, these buildings comprise 2,172 homes. 
Blade and Three60, both 51 storeys tall and providing a combined 855 homes, are under construction. 
Renaker also has planning consent for two more skyscrapers on Plot F, these will see another 988 apartments hit the market once complete, although work is yet to commence. 
Another scheme, Park Place, has planning permission for more than 1,000 homes on Plot G but is owned by Great Jackson Street Estates, rather than Renaker.  
Renaker also sold the listed Bridgewater House to Watch This Space last year. Plans to convert the building into 53 apartments are awaiting approval by Manchester City Council.