UK Biobank, the world's most significant source of data and biological samples for health researchers, has been successful in its £127.6m to the UK Research and Innovation (UKRI) Infrastructure fund to move to a new purpose-built facility at Bruntwood SciTech's Manchester Science Park. The funding will cover a state-of-the-art robotic freezer that stores and retrieves 20 million biological samples that have been donated by UK Biobank's 500,000 participants. The facility is being developed with the support of The University of Manchester.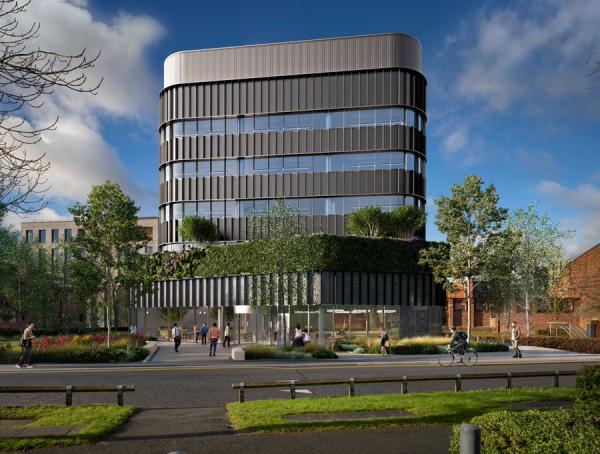 UK Biobank, which provides researchers with unparalleled access to health data from its volunteers, will continue to operate at multiple sites (including Bristol, Newcastle, Oxford, Reading, and Stockport) but its biological samples, laboratories, headquarters and around half of its 250 staff will move from their current home in Stockport, where they have been based for nearly two decades.
"We are thrilled to be moving to a world-leading centre for genomics and data, where we can build on existing relationships with The University of Manchester, the NHS, and global pharmaceutical and data science companies,"
said Prof Sir Rory Collins, Principal Investigator and CEO of UK Biobank.
"We are incredibly grateful to UKRI for their funding and support which will help increase UK Biobank's unrivalled work. With this funding it will be quicker and easier for researchers from around the world to conduct vital research into common and life-threatening diseases and enable new scientific discoveries that improve human health."
Prof Dame Ottoline Leyser, CEO of UKRI, said:
"UKRI invests in areas of science where we are world-leaders and can have the biggest real-world impact. UK Biobank is already used by more than 30,000 researchers from over 90 countries and each year, as further samples are collected and the dataset gets richer, scientific demand for access to the samples grows. This resource can make a real difference in people's lives and we're already seeing how the insights are driving changes in the NHS. Investment like ours cements the UK's status as one of the world's true leaders in research and innovation."
Professor Dame Nancy Rothwell, President and Vice-Chancellor of The University of Manchester said?
I'm very pleased that UK Biobank has chosen to move here as it is yet more evidence of how Manchester has become one of the world's leading hubs for science and innovation. UK Biobank will be joining the community of stellar research organisations that are already working with The University of Manchester to make a difference across the UK and around the world.
With the support of The University of Manchester, Bruntwood SciTech – one of the UK's leading property developers dedicated to the growth of the science and technology sector - is developing the new 131,000 sq ft Greenheys facility within Manchester Science Park, which sits at the heart of the city's Oxford Road Corridor innovation district.
Kath Mackay, Director of Life Sciences at Bruntwood SciTech, said:
"Manchester is a world-renowned hub for science and technology, and the ability for UK Biobank to grow here is testament to the quality of talent, innovation and support within the city. The development of Greenheys represents the third phase of our masterplan to grow Manchester Science Park to more than 1 million sq ft of cutting-edge life sciences and tech space which, critically, will support the creation of over 2,500 jobs as Manchester's Oxford Road Corridor continues to thrive."
Relocation to the Greenheys site on Manchester Science Park provides UK Biobank with new opportunities for for collaboration with multi-disciplinary researchers and industry. It will also offer access to additional talent due to the proximity to leading institutions operating across research, academia, business and the NHS. The move will also support the Government's ambitions stated in the 'Levelling Up' White Paper to increase R&D spending outside the Greater Southeast by over 40% by 2030, whilst retaining UK Biobank in the Greater Manchester area and contributing to the advancement of one of the UK's most established life science and tech communities.
Over the course of the next decade, UKRI's infrastructure funding will support:
·       Development of the new purpose-built facility at Manchester Science Park, located within Manchester's Oxford Road Corridor (ORC). UK Biobank will occupy three floors of a new building, to be constructed on the Greenheys site, which will house upgraded biological sample storage, processing laboratories and offices. The University of Manchester, Bruntwood SciTech[1] – a joint venture between Bruntwood and Legal & General - and the City of Manchester have worked together with UKRI and UK Biobank to develop plans for the new facility, which is expected to break ground in Autumn 2023 and be operational in 2026, subject to planning permission.
·       Replacement of UK Biobank's outdated infrastructure with a more modern robotic storage archive for its 16 million biological samples, providing capacity for future sample collections, quadrupling speed of retrieval to meet increasing demand from global researchers, and improving environmental efficiency.
·       Enhancement of UK Biobank's data assets to broaden the dataset and improve tools for researchers and industry. This will include linking to further health records and socio-economic and environmental data. UK Biobank will be able to take advantage of public, philanthropic and industry investment to undertake new sample collections, assays and other enhancements, having previously been constrained by outdated infrastructure.
·       New links with Manchester's life and data sciences enterprise system, particularly given the proximity to The University of Manchester and its strength in growth areas including AI, diagnostics, digital and biotechnology. The relocation will bring opportunities for UK Biobank and the University to stimulate innovation, health impact and economic growth. This partnership will also be pivotal to the local, regional and national life sciences ecosystem and the presence of their research and IP will help foster new treatments and cures.
·       Development of a 'Hub' to engage with new and existing collaborators and promote academic, commercial and public health links in the Manchester region and beyond. With a particular focus on start-up and SME engagement, generation of intellectual property will be encouraged by collaboration between UK Biobank, The University of Manchester, Bruntwood SciTech and its customers and the NHS. Existing organisations, including Health Innovation Manchester, will foster collaboration between UK Biobank, researchers, industry and the NHS so that new tests, treatments and products can be accessed by the people of Greater Manchester faster here than in any other region.
The new scheme is subject to planning approval by Manchester City Council. UK Biobank's relocation is supported by Arcadis, the global built environment consultancy. Bruntwood SciTech's facility design team is led by BDP Manchester with Silcock Leedham, DW Consulting, Walker Sime and Deloitte.